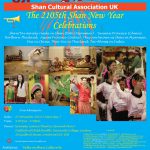 Shan/Tai New Year Celebrations are held annually in London by The Shan Cultural Association in the United Kingdom (SCA-UK)from 2006. The event is organised to promote the culture of Shan people, who call themselves as Tai, by SCA-UK, an association solely dedicated to promoting Shan literature and culture.
This year, the SCA-UK organises the event to mark the 2105th Shan/Tai New Year and Fifth Year Anniversary at the University College London, London.
There will be a lot of entertainments including the unique Shan traditional Kinnara Bird dance, Sheep dance and other traditional dances.
The SCA-UK would like to cordially invite you, your family and friends to join us to celebrate and welcome the 2105th Shan/Tai New Year.